Our Mission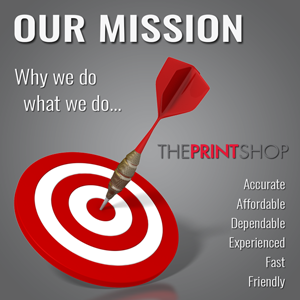 At The Print Shop, we are dedicated to providing affordably priced printed products and services, unparalleled customer service and exceptional quality in the fastest possible manner.  Our products and services are tailored to every client and their specific needs and we see each new project as a challenge that must be achieved.  Our customers are our top priority and with our cutting edge equipment, well trained staff, attention to detail and high level of efficiency we are confident that no other printer in the area can surpass the experience The Print Shop offers it clientele.
If you are an existing client, you know what we mean.  You can trust us with your job and feel confident that you've placed it in good hands so that you can focus on other things that need your attention.
If you are someone who is searching for a new printer in which to begin a relationship, you should give us a try.  We will not disappoint.  We stand behind our work and will make sure you are completely satsified.